One of the most popular single-handed dinghies in the world. It has one main sail. According to the Laser Class Rules the boat may be sailed by either one or two people, though it is rarely sailed by two. A commonly cited reason for its popularity is that it is robust, simple to rig and sail.
The design, by Bruce Kirby, emphasizes simplicity and performance. As of 2012, there are more than 200,000 boats worldwide. The Laser also provides very competitive racing due to the very tight class association controls which eliminate differences in hull, sails and equipment. The lasers hull is made out of GRP, Glass Re-enforced Plastics and the deck has a foam layer underneath for strength.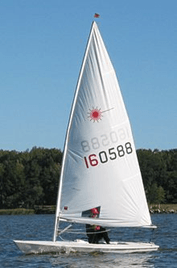 Specifications:
Crew
1
LOA
4.2 m (13 ft. 9 in.)
LWL
3.81 m (12 ft. 6 in.)
Beam
1.39 m (4 ft. 7 in.)
Draft
0.787 m (2 ft. 7.0 in.)
Hull weight
58.97 kg (130.0 lb)
Mainsail area
7.06 m2 (76.0 sq. ft.)
Laser sailing and racing presents a unique set of physical and skill based challenges. Fast Laser sailing requires an advanced level of fitness in order to endure the straight legged hiking and body-torque techniques essential in getting upwind and reaching quickly.
Since 1998 Laser sailing has increased to not only be physical upwind and reaching but also to also include far more demanding sailing and potential speed increases when sailing downwind. Traditionally sailing downwind has been considered processional in dinghy racing, simply being pushed downwind. But Laser sailors significantly changed the techniques used to race a Laser downwind. The techniques these sailors introduced uses a much more dynamic sailing method, concentrating on surfing the waves going downwind. The sailors will weave their way downwind, constantly looking to either side for the next large wave they can "hop" onto and surf downwind. To maximize their speed, boats will often be sailed by the lee, where the boom and sail will be allowed to travel significantly forward of the mast.
This change in technique for downwind racing has changed most dinghy racing to be much more competitive on the downwind legs and resulted in a change of the international course shape from a traditional triangle to a trapezoid giving greater opportunity for increased upwind and straight downwind legs.
Laser Radial
The smaller Radial sail has surpassed the original Laser Standard sail in popularity .The Radial uses the same hull and fittings as the Laser Standard, but has a smaller sail (5.7 m2), shorter lower mast section and has a different cut of sail to that of the standard or 4.7. Optimal weight for this rig is 121 to 159 lb (55 to 72 kg).
Laser 4.7
A smaller sail plan, Laser 4.7 is also available for the Laser where the sail area is reduced by 35% from the Standard with a shorter pre-bent bottom mast section, allowing even lighter sailors to sail. The hull is the same as the Standard and Radial. Optimal weight for this rig is 110–120 lb (50–55 kg), thus becoming an ideal boat for young sailors moving from the Optimist and who are too light for a normal Laser.
Laser M
A fourth and lesser-known variant is the Laser M Rig. This sail was the first attempt at making a smaller rig for smaller sailors. It employed the same lower mast section, but a shorter top section. This variant flopped when compared to the other rigs. This is primarily because the shorter top section didn't allow enough bend to be induced in the mast (as the bottom section is very stiff), this made the boat difficult to sail and de-power especially in heavier winds. This is not a rig recognized by the Laser Class.
In recent years and to move the boat with the changing times, the basic sail controls have been upgraded by means of the XD performance kit. Fitting these kits allows the outhaul and cunningham to be adjusted more easily when under sail via cleats fitted to the deck so that the lines are always available to the sailor. These are complemented by extra blocks and a rule-change allowing up to 6:1 outhaul purchase and 10:1 cunningham purchase. The kicker's positioning is largely unchanged, but features a swiveling cleat and now affords a purchase of up to 15:1 for super vanging in heavy air.
A vendor supplied clew-cuff, an upgraded traveler and mainsheet boom-blocks with bearings and a new brake design have been approved by class-rules and are available for sale.